Family Dentistry for a Lifelong Healthy Smile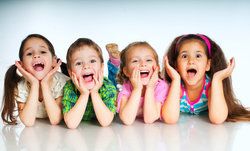 Dr. Justin E. Tarver and his team proudly treat patients of all ages. Dr. Tarver believes in family dentistry as a way to help prevent oral health problems and to set the stage for a lifetime of good overall health. Dr. Tarver has a great rapport with kids. He offers a full range of pediatric services, including cleanings, fillings, root canals, and more. Whatever treatment your child requires, he or she will enjoy compassionate care in a kid-friendly environment. To learn more about the outstanding family dentistry provided at our Monroe practice, schedule an appointment today.
Our Approach to Pediatric Care
Dr. Tarver likes to see children for their first visit around their second birthday. By beginning dental treatment at this early age, he can prevent future dental problems. Children's teeth are just as susceptible to decay as adult teeth. Unfortunately, when decay begins at an early age, it can affect a child's dental health for life. In addition to looking for cavities, Dr. Tarver can also monitor kids' dental development to check for signs of misalignment, impacted teeth, and other concerns.
Another reason to begin routine dental visits at an early age is that Dr. Tarver can teach your child about proper dental hygiene. He works to make dentistry fun, so your child will be motivated to take proper care of his or her teeth. Our staff knows how to talk to young patients to make dental appointments as stress-free as possible. At the end of their visits, kids can even choose a prize from our treasure chest.
Pediatric Dentistry Services
We provide a full range of kids' dental services. Our children's treatments include:
Cleanings: Just like their parents, kids can suffer from cavities. By removing plaque and tartar every six months, our team can protect your child's beautiful smile.

Sealants: Sealants are thin plastic coatings bonded to the surfaces of molars and premolars. The coatings prevent accumulation of food, reducing the risk of decay.

Fillings: We use tooth-colored composite fillings, which form a strong bond with your child's teeth. Unlike metal fillings, composite fillings appear more like a natural tooth.

Root canal therapy: Also known as pulp therapy, this treatment involves removing infection from inside a tooth and restoring the healthy outer structure. If your child has a dental infection, you will want to choose a dentist who knows how to help kids feel at ease during this beneficial procedure.
The Importance of Family Dentistry
Treating your whole family allows Dr. Tarver to provide optimal care for every member. Often, dental problems have a genetic link. For example, several members of the same family may suffer from gum disease. By providing multi-generational care, he can be on the lookout for conditions that may run in your family. He will also know what solutions have worked for other members of your family. In this way, he can provide more efficient and effective care if these conditions should arise again.
Schedule an Appointment for Yourself or Someone in Your Family
Take steps to protect your family's dental health. Contact us today to schedule an appointment for your child – or your entire family!